This week news broke that the price of the proposed pedestrian bridge in Downtown Galt could more than double. This has been a somewhat controversial project from the get-go, but seems to have illicited much less outrage than the proposed Multiplex and the new location of the Idea Exchange in the Old Post Office building.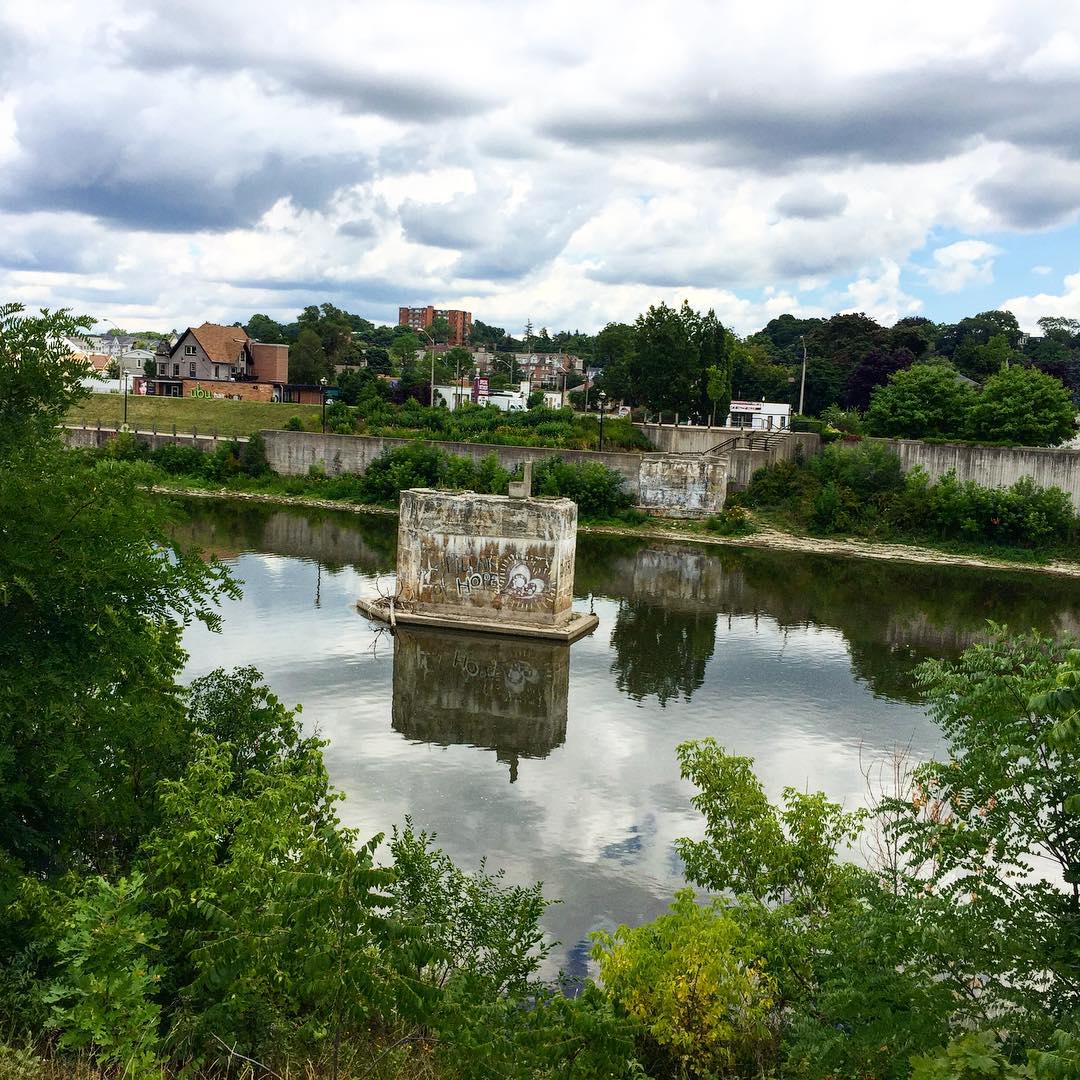 While I can't say I've wholeheartedly supported this project, I didn't mind it. Initially when it was proposed it seemed to make little to no sense, but once the Gaslight District was announced it did come into focus what the City had been planning all along. At an initial price tag of $1.5m, it didn't seem like an overly crazy endeavour. To me it was a bold stroke, looking to brand the city with a centrepiece art installation. In the same way that the Main Street bridge is iconic and draws photographers from all over, this new bridge would be an eye catching display for sure. Cambridge isn't a flashy place at the best of times so I never had much issue with adding some sizzle to our local tourism brochure.
Put A Bridge Over The 401
One of the issues I've had with the idea of a proposed bridge in Galt is that there isn't a glaring need for a bridge there. Where there is a glaring need for a bridge is to create a pedestrian crossing between Hespeler Road and Franklin Boulevard over the 401. If you've ever tried to walk, or bike across these 2 bridges, or maybe seen people attempt it, you'll know what I mean. You're essentially taking your life into your own hands trying to cross these bridges, as there are no sidewalks, no bike lanes, no cross-walks. With the reconstruction of the 401 going on, even the trail that ran underneath has been gone for a few years. I've heard this joke often about people in Hespeler not being willing to venture South of the 401. Maybe this is why!
While the City tends to turn a blind eye to developing infrastructure in the Hespeler Road core, there is a definite need for it. I see people biking and walking on Hespeler Road every day, yet so little of our local focus seems to be on actually improving the infrastructure there. Bikes shouldn't be sharing space with pedestrians on sidewalks. Building a bridge that potentially aligns with Conestoga Boulevard and connects to the SmartCentre would almost make too much sense. Conestoga Boulevard has bike lanes and was slated to have a mixed use trail implemented in the area. This route could viably connect cyclists with a safe route all the way over to Avenue Road.
We've Built A Bridge Over the 401 Before
In 2007 the City partnered with the Region and City of Kitchener to build a pedestrian bridge near Conestoga College at a cost of $1.7m. This project shows what can and should be done over the 401 in Cambridge. If we're going to spend $3.5m on the bridge in Galt I would much rather see a pedestrian bridge over the 401 that is actually needed. As a region we're building an LRT, trying to make transit faster and give viable alternatives to driving. Building a bridge over the 401 helps with that goal in ways the bridge in Galt can't.  While I do like the concept of the bridge in Galt, it doesn't make sense when there's more pressing bridges to build.
Update 04/05/17
Upon posting this blog I had a few people mention upcoming plans for a mixed use trail in tendem with the rebuild of the Franklin Boulevard 401 exit. I can't seem to find any details on a firm ETA for the project. This WR Record article from 2015 states it could still be four years away, which would be 2019. That article also states the province has given a deadline of March 31st, 2018 to actually have that built, which I'm not envisioning is going to happen. While this would fix the Franklin part of the equation, it doesn't fix the Hespeler Road conundrum. There has been proposals for a pedestrian bridge where I suggested in this article, but there seems to be nothing firm with regards to planning.